Hosting Thanksgiving for your family can feel like a daunting task! If you are new to hosting, you most likely feel like you have some big shoes to fill especially if you've been "passed the torch" from a different family member. We've gathered some tips for you to help you host with confidence!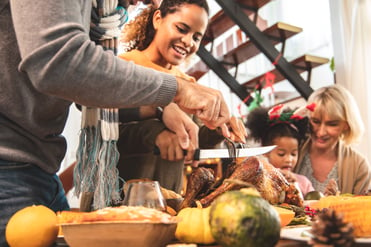 1. Make Your Plan
The best way to get your plan down is good old fashioned Pen and Paper. Start by making your guest list so you know how many will be attending. Next make your menu and make sure there are no dietary restrictions. If you will be following family recipes, make sure you have all of the recipes you need. There are typically some things that can be made ahead of time so plan to get these out of the way early.
2. Say Yes To Help
If someone offers to help you, let them! There is no need to put all of the stress on yourself by trying to juggle everything on your own. Every little bit of help will make a difference so whether its peeling the potatoes, moving furniture or someone stopping at the store for a forgotten item, accept the help!
3. Set The Table
Setting the table is definitely something you can do ahead of time. Not only does this save you time on Thanksgiving, but it also allows you to make sure you have everything you need for your table setting. While the temptation to make our table look like your Pinterest board may be there, keeping it simple will make things much easier for you. If you really want to fancy it up, grab some fresh flowers while you're shopping or add your gourds from your fall decorations.
4. Get Your Groceries Early
We've all seen recent supply shortages world wide and the last thing you need is to not be able to find the secret ingredient to Grandma's famous Cranberry Sauce. Make sure you get your shopping done as early as possible so you have time to get the hard to find ingredients. You also don't want to get stuck in the grocery store with all of the last minute shoppers fighting over the last box of stuffing on Isle 3.
5. Don't Forget The Drinks
Remember the saying, "Eat, Drink, and be Merry"? Well don't forget the drinks! This can be the most overlooked part of the meal when your focus is on the food. While the adults will traditionally enjoy wine with dinner, make sure you also have options for children or those who don't drink alcohol.
6. Enjoy Your Day
While hosting comes with a lot of responsibilities, with proper planning you can still enjoy your day. Pick out your outfit early and plan to have as much done as possible and be dressed before your guests arrive. Don't stress all of the little details because your guests also want to enjoy this special day with you.
We hope you and your families have a Happy Thanksgiving. Cheers to hosting like a boss!