We at Elite think our staff are pretty awesome and want to give you the pleasure to get to know them as well! Meet Aliza.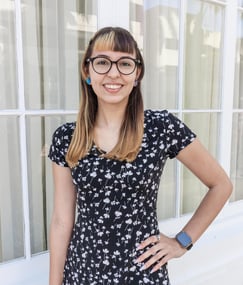 What do you do for Elite? I am a lien researcher, and occasional arts and crafts helper.
What do you love most about your job?

I love how flexible and understanding my managers are, and I love the chill atmosphere of the office.

Do you have any hobbies?

I love arts and crafts!

Do you volunteer anywhere?

Not currently.
What is something you will absolutely never eat?

Durian fruit.

What was your first concert?

My first concert was in 2008 and Fireflight was playing at an event for Sarasota High School.

What is your favorite family tradition? For Thanksgiving, my dad would cook a turkey, as well as pernil (pork shoulder). We could've fed an army with all the food he would make!
Which store would you max out your credit card?

H&M
What was your first job?

My first job was at Kmart before it closed, and I was 16. I was a cashier, and I also worked in the clothing department, jewelry department, and in the garden section.

How do you like your eggs?

Sunny Side Up
Coke or Pepsi?

Pepsi
What is your favorite holiday?

Christmas!