We at Elite think our staff are pretty awesome and want to give you the pleasure to get to know them as well! Meet Daniel!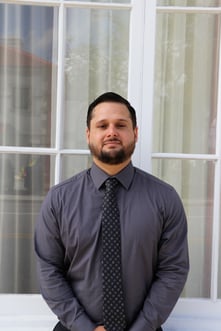 What do you do for Elite?

Florida

Lien Researcher

What do you love most about your job?

I like having the ability to work on my own but also having a team around me that when we work together we are able to get things done. Me being a soccer player my whole life, I enjoy having the individuality as well as the team work.

Do you have any hobbies?

Yes, I've played soccer my whole life so I still like to go out and kick the ball around a little bit but I also like other things like fishing, camping, and bowling just to mix it up a little bit.

Do you volunteer anywhere?

Not currently, but before I moved to Bradenton I was volunteering as a soccer coach. I have had some knee surgeries since moving so hopefully I will get back into that.

What is something you will absolutely never eat?

That's a tricky one. I'm usually pretty open minded about trying something at least once. I don't know, it would have to look pretty gross I suppose.

What was your first concert?

My first and only concert was Ultra Music Festival in Miami. It was a bit of a crazy concert to be your first one.

What is your favorite family tradition? Camping. We like to go down in Baja in Mexico and go out where technology

doesn't

work

anymore so it's just the family. We have a spot that we've been going to since I can remember.

Which store would you max out your credit card?

This was hard to choose but I ended up settling on Best Buy because they have a great variety of technology and I love technology and video games. I could definitely max out every card I have there.

What was your first job?

My very first job was landscaping and construction with my Dad as I was growing up, but my first real job after college was a face to face marketing job that I used to do for Home Depot. Not the most fun because you got a lot of "No's" to your face but a good experience for sure.

How do you like your eggs?

I like to fry them but leave the center still runny, or I like to have them scrambled with some bacon.

Coke or Pepsi?

Coke, all day! It's not even close.

What is your favorite holiday?

Christmas. I always have good memories from Christmas with my giant family always coming together.