We at Elite think our staff are pretty awesome and want to give you the pleasure to get to know them as well! Meet Danielle!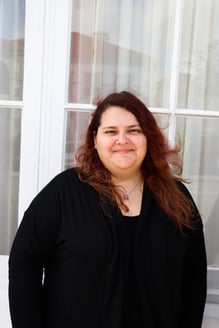 What do you do for Elite?

I am an Estoppel Clerk.

What do you love most about your job?

I love working with a supportive team.

Do you have any hobbies? I like to read and

play

video games.

Do you volunteer anywhere?

Not right now.

What is something you will absolutely never eat?

Liver, it's just really weird.

What was your first concert?

Olivia Newton-John with my Mom and I was 7.

What is your favorite family tradition? Binge watching

Christmas

movies with my mom. We basically start in July and go until they are over.

Which store would you max out your credit card? Basically any Pet store. My animals are all

extremely

spoiled.

What was your first job? My parents owned a remodeling company so I actually worked with them. Honestly since I was in diapers

I've

been on job sites.

How do you like your eggs?

Scrambled with a little bit of spinach and mozzarella cheese.

Coke or Pepsi?

Coke, no contest.

What is your favorite holiday?

Christmas. Everyone is extra cheery, and friendly and nice.