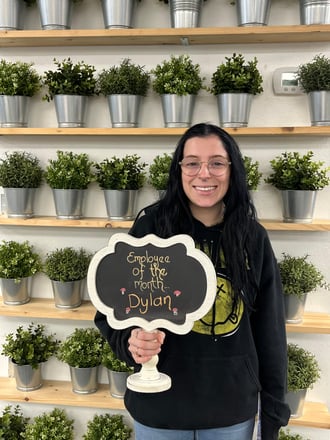 Congratulations to Dylan, our new Employee of the Month! Read more below to learn about who she is and why she's awesome!
What do you do for Elite?

I am a lien researcher.

What do you love most about your job?

The people and the energy of the office ❤

Do you have any hobbies?

I stream myself playing video games and I make Perler jewelry/beaded art.

Do you volunteer anywhere?

No

What is something you will absolutely never eat?

Sushi, I want to like it SO BAD but I just can't do it!!

What was your first concert?

…. Justin Bieber in 2008 LOL

What is your favorite family tradition?

A family Christmas Pierogi making party!

Which store would you max out your credit card?

Definitely Shein, they have everything you would ever want and need.
What was your first job?

A Hostess at Winghouse.

How do you like your eggs?

Over easy.

Coke or Pepsi?

McDonald's Coke.

What is your favorite holiday?

Definitely Christmas.

What is something that you cannot live without?

My annoying cat, Luna.